Niagara Basement Renovations
Your basement renovation specialists in the Niagara Ontario region.
No renovation too big or too small. Give us a call today for your free estimate.
Why Us At Niagara Bathroom Renovations?
Niagara Basement Kitchen Renovation
Liven up your basement with a brand new kitchen basement renovation! Basement kitchens are an inviting way to turn your basement into something special. A basement kitchen is a great way to share meals and create new memories with your loved ones year round.
We specialize in kitchen basement renovations to bring your dream basement kitchen to life. We take into account the space you have and how to maximize it to bring you the best kitchen area possible, and potential dining space if and where applicable! Whether your space is small or large, we're the experts in creating the perfect basement kitchen for you.
Basement kitchens come in handy during the summer time, providing you with a cooler space in the house to cook. When you get your kitchen basement renovation with us, you'll want to cook more meals in the summer in your brand new basement kitchen. Invite your loved ones over for a meal made fresh from your basement kitchen, it's a perfect excuse to host more get-togethers.
Do you have guests or tenants staying in your basement? A kitchen is a great way to give them their own space to prepare their meals, rather than having to share a common area with you. Being a basement kitchen, we ensure everything is up to code so it not only looks and functions great, but is also safe to have in your home. Let us work with you to determine your budget and bring you the basement kitchen of your dreams.
It's time to bring some excitement to your basement! Why not install a bar? We specialize in basement bar renovation. Basement bars are great for hosting guests in your home. Take entertaining and socialization to a new level by enjoying a drink or simply having a chat at your brand new basement bar.
Basement Bar Renovation in Niagara Region
There's no limit when it comes to style options for your basement bar. From modern and sleek, to the classic sports bar look, you can count on us to design your basement bar renovation exactly to your tastes. We take into account the look of the existing space, as well as any decorations already in the space. The look of the bar can make or break your basement's entire aesthetic, and we can guarantee it'll be the standout star of your entire basement.
We take every detail into account, including cabinets and countertops. No aspect goes overlooked when you let us take care of your basement bar renovation. Bars are one of the most eye-catching things you can have in your home. We make sure it stands out for all of the right reasons. You'll love your basement a little more after you let us take care of adding a bar to it.
Basement bars are a great addition for a mancave, or just as a simple, interesting touch to your home. Basement bars are often the envy of homeowners. Let us take care of your basement bar renovation to bring your dream basement bar to life!
Niagara Falls Basement
Apartment Renovation
It's time to put your basement to good use with an apartment basement renovation.
Whether you're looking to make some extra cash, or simply house a loved one, an apartment basement renovation is an excellent choice for your house.
Turning your basement into an apartment is a perfect idea for when you either don't regularly use your basement but have a lot of space, or if the basement is simply unfinished as is. We can transform your basement into a beautiful apartment.
Why not make a little extra money by charging rent? When you renovate your basement into an apartment, you're making an additional investment on your home. Thinking of selling anytime soon? This will only increase your property value!
No matter the site of your basement, our apartment basement renovation will be created to your desired specs, with all of the essentials. Whether a studio, 1 bedroom, or more bedrooms, we can create the perfect living space for you or your tenant.
For smaller spaces, we make sure to utilize as much room as possible in order to focus on a space-saving design that still provides a comfy place to live and sleep. Bigger basements are also properly proportioned to ensure each room is just right for each intended purpose.
We ensure everything is up to code so that these living quarters are safe without any bad surprises for you or whoever is occupying the space. Safety is just as important to us as designing the space to your tastes.
Basement Bathroom Renovation Niagara Region
When was the last time you refreshed that old bathroom in your basement? It's time for a bathroom basement renovation.
Our team knows the ins and outs of properly renovating basement bathrooms, both functionally and aesthetically. The basement bathroom you may not often use can suddenly serve a purpose with a new bath or shower, an upgraded toilet, and new sink and countertops. Whatever you need for your bathroom basement renovation, we can take care of it.
Don't already have a bathroom in your basement but would like to add one? You're looking in the right place. We can create the basement bathroom best suited to your needs. We can create both large and small bathrooms based on the size of your basement. We also help you determine what type of plumbing is needed depending on what is or isn't already in your space.
A basement bathroom is a great addition to your home. For those days when the house is a little more crowded, or those days where you get your hands dirtier than usual, having an additional bathroom in your basement always adds a bit of extra convenience to your house.
It can be tempting to want to DIY a job like this, but you're best off hiring the pros. We have years of experience installing basement bathroom renovations, and we always make sure the job is done right and to your tastes. After all is said and done, you'll be happy you let us take care of the job.
Niagara Basement Fireplace Renovation
If you haven't used your fireplace in years, it's time for a fireplace basement renovation. Our team can help install and renovate fireplaces in your basement to add special flare to your home.
Fireplaces can turn a room from boring to inviting. Imagine gathering in the basement with loved ones by the fireplace on a cold night. You'll be glad that you chose to work with us for your next fireplace basement renovation.
Fireplaces may seem like a minor addition to your basement, but they actually have a larger impact. A fireplace can turn your basement into the coziest space in the house.
There are all kinds of fireplace styles you can install in your basement. No matter what you want, we can make it happen! Unsure of what you're looking for? No problem! Our experts have an eye for design and can help you choose a fireplace that will match your room's aesthetic beautifully.
Safety is also top of mind for us when we install and renovate your basement fireplace. We ensure proper ventilation is in place, regardless of which type of fireplace you choose. Have peace of mind knowing you can get cozy near the fireplace knowing it was installed with safety in mind.
Whether you're looking for a model that's low maintenance, or something that presents itself as a little more "fancy", we can help you install and renovate your fireplace exactly the way you want it. We're the experts, and we'll be happy to help you install the fireplace of your dreams.
Basement In-Law Suite Renovation in Niagara Falls region
We create apartment-style suites for in-laws looking to move in! From bedrooms, to kitchens, to bathrooms, and living rooms, we can create exactly what's needed for the perfect basement in-law suite renovation.
Small or large, we can transform your basement into the in-law suite that they'll love. Let them feel like they still have their independence while still staying close to family. This provides peace of mind to both of you, and allows you to visit each other more often. Holidays and special occasions are about to get that much more exciting when you're right there to make new memories with each other.
We can renovate your basement to provide a living room, kitchen, bedroom, and bathroom, so the in-laws will feel right at home in a space they can call their own. We'll take into consideration their needs from functionality, accessibility, right down to design. We'll do whatever we can to create a space that feels home-y and welcoming.
If they're not looking to move in, we can still transform your basement into a dazzling basement suite for any guests you may host for extended stays. Our in-law suite renovation will keep them wanting to come back for more visits!
In-law suites are a big job that you'll want to skip as a DIY project. As the pros, we'll take into careful consideration everything you want us to create. We'll make sure the job is done right the first time. Basement in-law suite renovations are one of our many specialties, and you'll see why after we finish transforming your basement.
Many of us have been working from home for the past couple of years. Plenty of us are planning on staying home too. If that's you, it's time for an office basement renovation.
In a room that you find yourself working in on a regular basis, you're going to want to feel comfortable. Gone are the days of sitting in an uncomfortable office. When you set up your home office the way you want, you'll feel better and finish more work.
Niagara Basement Office Renovation
Large or small, we can work within your space and needs in order to create the office basement renovation that will help you stay focused and feel like you have everything you need within reach.
Designed to your tastes, your space can have a professional look and feel that helps you feel like you're at work, or you can opt for a cozier-home-y feel that lets you feel relaxed. Regardless of your choice of style, we're here to help create the basement office of your dreams and make you feel like you're maximizing productivity right from the comfort of your home.
A home office also acts as a great option for when you just need a quiet space to focus on non-work related tasks. By having the proper setup to help you feel productive, you'll be happy you decided to renovate your basement into an office space.
Whether you're looking to change your existing basement office, or build a new space for you to be productive, you can trust us to create your dream office basement renovation.
Basement Rec-Room Renovation in Niagara Falls, ON
Have a spacious basement and don't know what to do with it? Don't let all that extra space in your home go unused. Let us help you with your rec room basement renovation.
Let's face it – a lot of us have a rec room in our basements that hasn't been used or updated in years. It's time to breathe some new life into the space and make it a place to occupy again. Stop neglecting your downstairs and transform it into a space that you'll wish you'd done something about sooner.
A rec room basement renovation is the perfect way to bring activity back to your basement. Whether it's a room for the kids to play, to hang out with friends, or double function as a guest room when you have overnight visitors, a basement rec room is a great addition to your home.
When the main living room is in use and you need a place to hang out alone or with others, the rec room is the perfect place to get away and enjoy a show, play a game, or any other fun activity you can think of. With countless options for the room's purpose, it'll come in handy when you least expect it.
Niagara Basement Theatre Room Renovation
Movie nights will never be the same, for the better! Let us take care of your theatre room basement renovation.
Having a theatre room in your basement is one of the most exciting ways to make your home a little more interesting. Turn family movie nights into a weekend tradition. Give your kids something to entertain their friends with when they come over. Watch the big game with your friends and share some snacks. Whether you use it with company, family, or just by yourself, the theatre room has something to offer everyone in your household. Who doesn't love a big screen?
We consider all details of the design and functionality. From the carpets, to the soundproofing, to the lighting, to the walls and more, we want to give you the home theatre of your dreams. You'll love your basement theatre room so much, you might never want to go out to the movies ever again!
We can work within the size of your basement to make your theatre room large or small, plus determine what else needs to go into the renovation when determining all of the necessities that make a basement theatre room special.
We'll carefully craft your theatre room basement renovation exactly to your tastes to give you the home theatre of your dreams. It's time you used all of your basement space for something fun, and a theatre room basement renovation is the perfect way to transform it. Let us bring the theatre room of your dreams to life!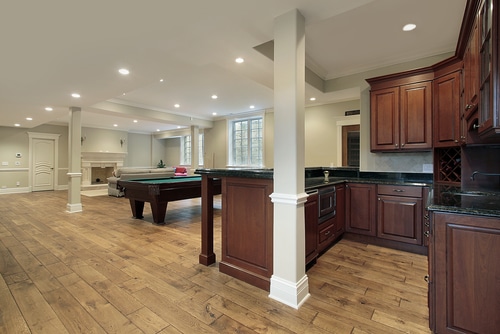 It's time to bring the family downstairs into a space you can all enjoy with a family room basement renovation.
No one wants to have a boring basement. We can help you transform it from something drab into a family room that you and your loved ones will spend plenty of time in. The family room is great for entertaining guests, unwinding after a long day, or providing another space in the house for the kids to play. Basement family rooms truly provide something for everyone!
Niagara Basement Family Room Renovation
Your house can get crowded when everyone is limited to hanging out in your upstairs living room. By creating a basement family room, there's more breathing room for everyone to spread themselves out, and acts as another option for when you're tired of sitting in the same room for too long.
Already have a basement family room? We're here to help you refresh it. It's not uncommon for us to encounter basement family rooms that are dated and unused. We're experienced in modernizing basement family rooms by turning them into cozy spots that families love to use. When you let us renovate your family room, you'll understand why so many local households have chosen us to refresh their basements in the past.
Large or small, we know exactly how to transform a basement space into a family room that everyone loves. We also make sure that the room is to your aesthetic tastes so we can renovate the basement family room of your dreams.
Niagara Basement Work Out Room
Gym Renovation
Don't let all that extra space in your basement go to waste. Transform it with a workout room basement renovation.
Whether you've been looking to get in shape, or need a bigger space to keep all your workout equipment, converting your basement into a workout room is the perfect way to bring your dream home gym to life. When you choose us for your workout room basement renovation, you'll get exactly what you need to make sure you have a comfortable space to exercise in.
Why spend any extra money on expensive gym memberships when you can have everything you need right inside your own home? Going to the gym can be hard enough, which is why we want to create a space that's comfortable for you to work out in right out of your own basement.
We make sure to consider the type of space you'll need when it comes to how much gear you have and how big every piece of equipment is. For those of you who like an extra touch, talk to us about room aesthetics. If you want your basement gym to look like the real thing, we can help design the room to your needs to really help you feel like you're working out elsewhere.
Add something different to your basement with a sauna basement renovation. In-home saunas are becoming more and more popular, and we can help you get in on the action.
There are plenty of health benefits to using saunas, and having one in your home is a convenient way to reap those benefits. Many people use them to treat medical conditions, or simply to relax after a long and stressful day. Saunas are also great after you finish exercising in your basement workout room.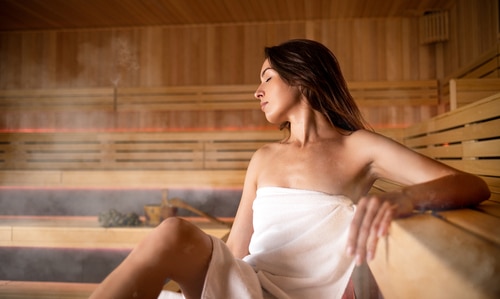 Niagara Falls ON Basement Sauna Renovation
Basements are a popular choice for saunas, as basements often provide a large enough space to be installed in. If you want to renovate your basement but aren't sure what you want, a sauna could be a great option for you. We'll figure out what exactly you need in terms of space and heat in order to provide the best renovation possible.
We can also discuss additional renovations to make your sauna space feel complete. Showers, changerooms, seating areas, and more can enhance your sauna room experience. Whether you want it all or just the sauna, we'll be able to bring your ideas to life every step of the way.
What was once only available for the wealthy has since become more accessible and affordable to the average homeowner. Unlike some renovations that you can DIY, you're going to want to leave a sauna basement renovation to pros like us. We can create the perfect sauna for your home. Let us renovate your basement and bring your sauna basement renovation dream to life.
What People Are Saying
See what our customers are saying about us
Thank you! We are delighted with our new basement renovation.
So happy with our new basement walkout.